MG Insulation Group in Kildare
Cavity Wall Insulations and Attic Insulation Services For County Kildare, Ireland
GET A FREE INSPECTION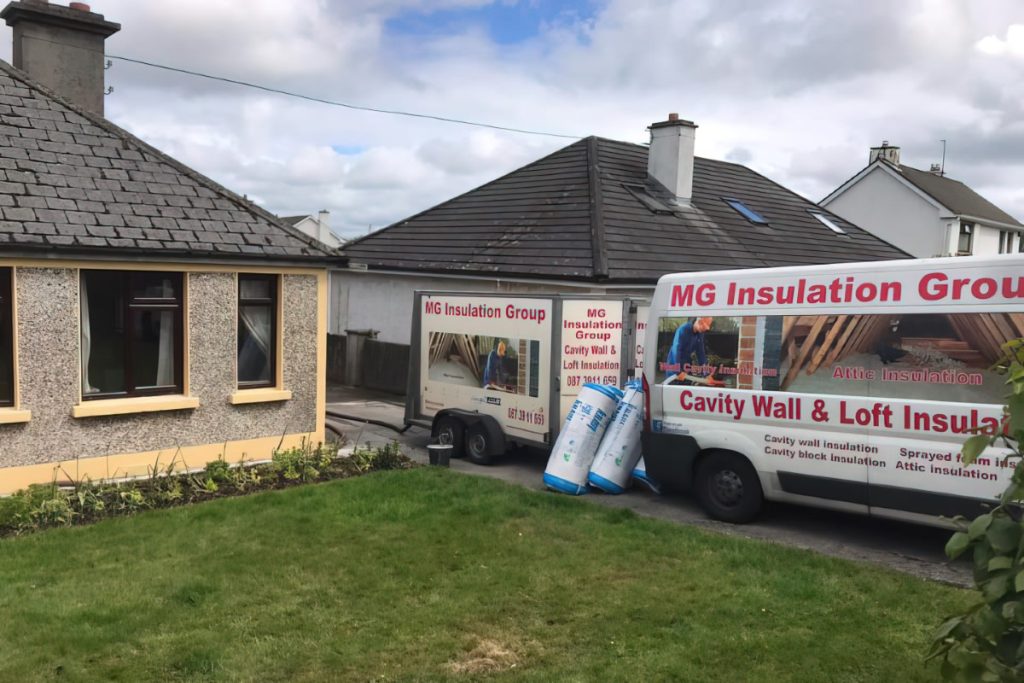 Cavity Block Wall and Loft Insulation Kildare
Cavity wall insulation and loft insulation for your home in Kildare can reduce the heat loss in your home and lower your heating costs significantly.
Get a free no obligation estimate for insulating your cavity block walls or your loft in Kildare by calling MG Insulation on 087 391 1659.
Over the years, our experienced insulation contractors have worked to deliver high-quality insulation in Kildare. Our specialised team can work to improve the heat retention of homes, outdoor buildings and any type of business structure.
Our services range from cavity block wall insulation to loft and attic insulations in Kildare, spray foam insulation and cavity wall extractions.
If heat loss is costing you a great deal of money, or an inability to retain heat is causing an uncomfortable space, get in touch today by calling 087 391 1659.
The cost of heating is always rising – as such, it is more important than ever that your property is equipped with industry-leading insulation. Over the years, we've worked to protect traditional buildings and new builds with high-quality insulation.
Our insulating services for Kildare include:
Blown fibre insulation
Bonded bead systems
We pride ourselves on the reputation we have established throughout the last 20 years for providing customers in Kildare not only with unbeatable value but the high-quality work our trained team of insulation specialists provide.
Cavity Block Wall Insulations in Kildare
Cavity block wall insulations are one of the best and most affordable ways to improve your home's energy efficiency in County Kildare.
MG Insulation Group in Kildare can insulate cavity block walls by injecting insulation into the cavity from the outside through drill holes in the outside walls. Insulation is usually mineral wool, polystyrene beads or polyurethane foam.
Loft Insulations In Kildare
MG Insulation provides affordable loft insulation services for domestic properties.
Most houses in Ireland only have a thin layer of fibreglass attic insulation which is nowhere near sufficient to retain the heat from below. With a large percentage of that heat escaping, the heating must be kept on longer to retain a comfortable temperature in the home.
Cavity Extractions in Kildare
We provide a service for cavity wall extraction in Kildare using the very latest techniques to extract the damp and wet insulation material. Our team are experienced in understanding the problems a poor cavity wall installation problem causes.
Spray Foam Insulation
Spray Foam Insulation (SPF) is considered one of the most versatile forms of insulation available. Its continuous membrane, which can adhere to virtually any building or structure, including awkward shapes such as curves and voids, contains the most efficient insulating properties used in modern industry.
Our home insulation services cover all of the County Kildare area which include Kildare Town, Naas, Maynooth, Athy, Leixlip, Celbridge, Kilcock, Clane, Johnstown, Newbridge, Sallins, Monasterevin, Brownstown and all nearby towns in Kildare County.
We provide free no-obligation inspections where we can carry out a thermal inspection of your home and provide you with a detailed breakdown of the proposed works.
We guarantee all our insulation work and we offer the best price/service combinations throughout the County Kildare region.
Call MG Insulation Group in Kildare on 087 391 1659 or fill out the contact form to schedule a free visit from one of our insulation contractors in Kildare.
Schedule Your Kildare Quote Today!
There is no reason to wait - get a professional inspection for insulating your Kildare home quickly at no cost to you.
SCHEDULE A FREE QUOTE
OR CLICK TO CALL 087 391 1659
Our Insulating Services For In and Around The Kildare Region:
When you need a home insulation service near you in Kildare, our contractors can help. Fully insured, all work covered by a writtten guarantee.
Mg insulation insulate my house today I am very happy with the job. Thanks.
Marcin Baran
Lads came this morning and did a brilliant job very clean great price and even put in extra insulation
Peter Kennedy
Great bunch of lads very efficient and tidy highly recommend them
Mick Harris
Our Cavity Block Wall and Loft Insulation Services Near Kildare
We service all the nearby areas area which includes Kildare Town, Naas, Maynooth, Athy, Leixlip, Celbridge, Kilcock, Clane, Johnstown, Newbridge, Sallins, Monasterevin, Brownstown and More..